by Nick Wager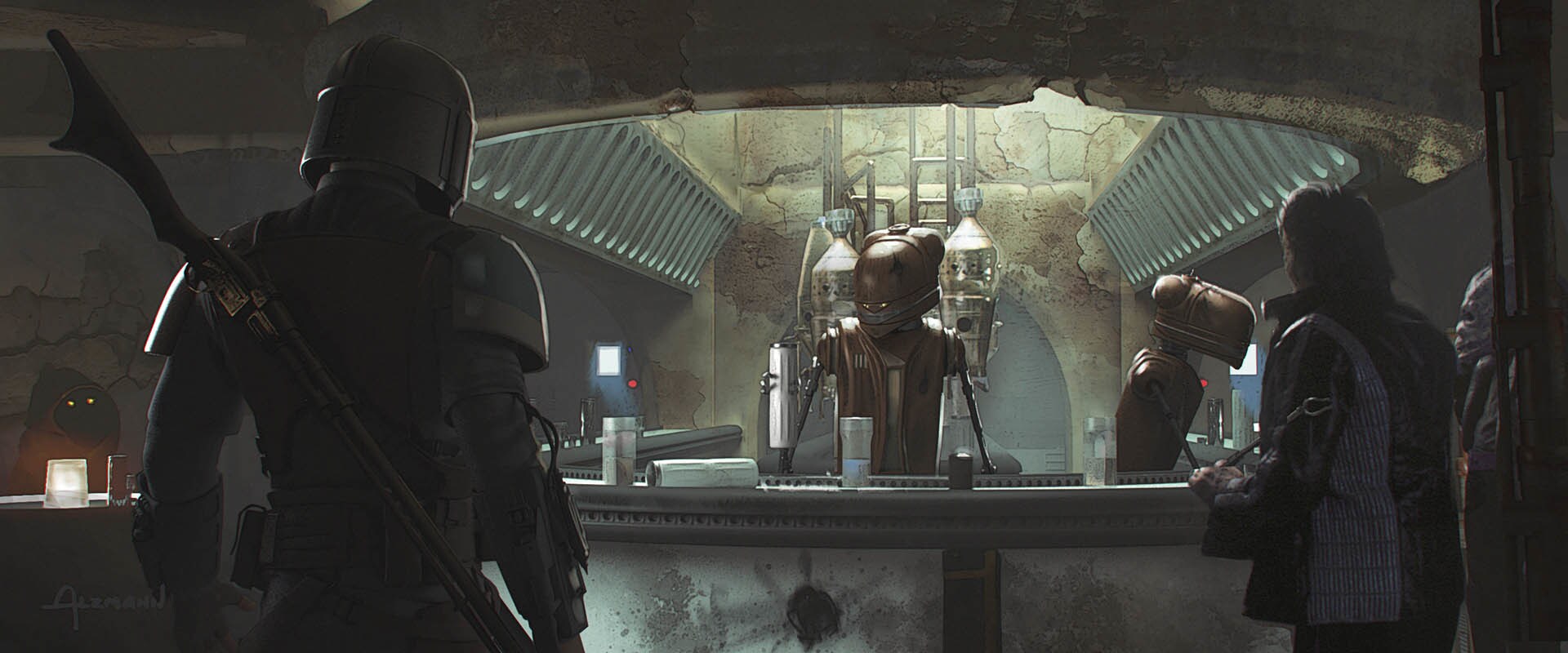 Quick fun fact about the above scene: Mark Hamill voices the "tin can" bartender in this episode.
This episode begins with a bit of octane as Mando and The Child are in a small dogfight with another bounty hunter in space. This is the first time we have a space battle in this show, and it is a great change of pace for the series. We also get a glimpse of the level of threat to The Child's safety. However, The Child seems quite used to it, and is adorable as always. It appears we are back on Tatooine and it is very exciting indeed! The first bit nostalgia we taste is when we see the pit droids, which are known as DUM-service droids…that's…great, George. This is also when we are introduced to a queer mechanic icon, Peli Motto, played by the incomparable Amy Sedaris. Her performance has a nice sprinkle of camp to it and reminds me of one Catherine Tate in the role of Donna Noble on "Doctor Who": she does not seem to know too much about Star Wars and the vernacular seems to come out a bit clunky, however that is at least half the charm of the character. Sedaris does a terrific job in this role and I am glad that she reappears later in the series. I attribute some of the awkwardness to perhaps some miscommunication since this is Dave Filoni's foray into directing for live action. However, these tricky moments are few, fleeting, and forgettable. The rest of the episode easily makes up for it.
We now follow Mando through the streets of Mos Eisley where we see a chilling and significant composition of a group of bloody stormtrooper helmets speared in the sand. This is excellent symbolism and an illustration of the state of the galaxy, at least out here on Tatooine. As a fan, as well, it speaks reflexively also of the tide that seems to be turning in the fan base: these symbols of "evil" are speared and on display.
Back in Hangar 35 with Motto and her droids, we find The Child waking from a nap and coming out of the Razor Crest for a little stroll. It is a fun sequence and the music here by Ludwig Goransson matches with ease. It is playful and contradictory to the main theme which is even more enjoyable. Also, worth noting here is the set design and the set dress of the hangar, and in that regard, many props to Andrew L. Jones (Production Designer) and Amanda Serino (Set Decoration), among other hardworking inspired artists.
In the cantina – which is a great bit of nostalgia and interesting for world building – we meet Toro Calican. I really cannot tell whether I am a fan of this character. He lacks a certain amount of depth and seems like a tool to introduce Fennec Shand to the story, who is a daunting and stacked character. It does not help that Jack Cannavale does not bring much to the table as far as performance is concerned. Pedro Pascal, on the other hand, delivers some of his best voice over work in this episode. Lateef Crowder and Brendan Wayne also deliver incredible Mando performances.
The sequence that follows as Mando and Toro speeder-bike across the dunes is immensely satisfying. We get a series of aerial and wide environmental shots cut with some pretty cool closer shots. Baz Idoine, in partnership with the teams at ILM and Epic working on The Volume, are to thank for how miraculous the environment looks here.
This next part is a testament not only to Dave Filoni's writing, but to his cultural and societal awareness; the fact that Dave always has a hand on the pulse of reality is perfectly exemplified by his portrayal of Tusken Raiders. He does not waste any time to put the "filth" depiction of them behind by having Mando explicitly say that they are the locals. And then Filoni adds to this incredible representation of indigenous culture by completely, simply, without question, integrating deaf representation. In this short sequence where Mando – again, without question – starts talking to the Tusken Raiders in American Sign Language is a master example of disabled representation in media. For this alone, Filoni should receive praise and recognition.
Now we meet Fennec Shand and oh boy is her design immaculate. Props to the design and art teams here, and to Joseph Porro for the costume on screen. And of course, Ming-Na Wen completely dominates this role. Her performance is powerful and ominous. And of course, within her introduction, Mando says she has the high ground, which…very clever, Dave, you minx! As the scene progresses, it is important to point out the skillful editing here by Andrew S. Eisen and Dana E. Glauberman. Great stuff all around.
The following night scenes are very well composed and shot. The flash bangs are a great concept and very well executed. I think visually, they do their job, and the vocal performance and ADR from Pascal heightens this, as well. The fight choreography is beautiful, and the editing makes it work so well. Props here to the entire stunt team. As always, they do such a fantastic job.
Back in the hangar, Sedaris has a line that I missed the first time I watched as one of the funniest lines in the context of the show, which is when she tells Mando, "You're smarter than you look." I get a kick out of characters commenting on how Mando "looks" even though they are just looking at an expressionless mask. I think it is emblematic of the character of Mando as a whole and why the entire production team along with the performers deserve so much praise for this show: Mando's journey is a deeply emotional one and the fact that they succeed at doing this while he is masked 99% of the time is a feat beyond my capacity for adequate explanation. It is a collaborative phenomenon that I am so excited to get more of in the years to come.
"The Mandalorian" won seven Emmy awards out of fifteen nominations.
"The Mandalorian" is rated TV-14 for science-fiction action and violence. The show is now streaming on Disney+.
/
I am currently considering a post detailing my reactions, as a fan of the franchise, to the announcements from yesterday on the Disney Investors Day stream. However, I will run down a quick reaction list of the Star Wars content announced now:
Big Screen:
Rogue Squadron – Patty Jenkins is going to dominate this picture and I cannot wait.
Untitled Taika Waititi Film – I am excited, but a bit disappointed it is not farther along.
Disney+
Obi-Wan Kenobi – Finding out Hayden is coming back as Darth Vader has been a catharsis for me.
Ahsoka – Many are still asking where the Rebels sequel show is going to be, and I think it is obvious by the logo that this show is where all that is going to happen. And in live action. With Dave Filoni at the helm. Limited series is smart, too.
Rangers of the New Republic – This could be cool, but it also could be more steady work for anti-science alt-right supporting Gina Carano.
Lando – This should be neat. Limited series, which is good. Apparently, Donald Glover is gearing up to record another album soon too and I will never understand how he can juggle like that.
Andor – I am not particularly excited for this, but the sizzle reel was fun. I love Diego Luna. The production team is also stacked.
The Acolyte – This is going to be incredible. There is not a lot of information, but the timeline excites me.
The Bad Batch – I am game for gritty clone wars action.
Star Wars: Visions – This is going to be transcendent. Short film anthology. All anime. Spanning thousands of years of Star Wars lore. Sign me up.
A Droid Story – This seems like a testing ground for new technologies, and I am not against it. It should be fun.
Lastly, these are not Star Wars, but Willow and Children of Blood & Bones are going to be great additions to the Lucasfilm catalogue.
For full descriptions of shows and other media related to the announcements, visit www.starwars.com – it's where I found all this information!